Farm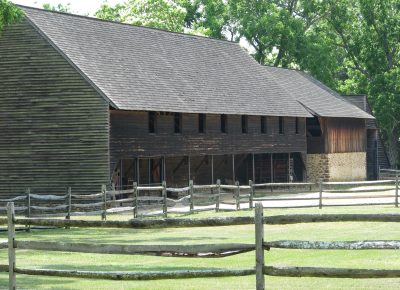 Stone Horse Barn
Built in 1830 and constructed of Jersey ironstone, the barn housed horses and mules. There are four stalls with hay storage located above. Other farm buildings on display include a Piggery (below), Woodhouse, Carriage House, Horse Stable, Threshing Barn, Range Barn, and a Mule Barn.
Piggery
This facility was utilized to slaughter hogs after for processing. The large tower on the left provided water from a large tank. This water flowed into a large processing tub, where the animal parts were further processed. The cast iron bowl-like tub was most likely manufactured right in the village.
Other Farm Buildings
Wood House:
Wood for the Mansion's cook stoves was stored here. Currently, it houses a display of agricultural implements.
Carriage House:
This building housed various horse drawn vehicles.
Horse Stable:
Riding horses and carriage horses were kept here. There are ten stalls. Produce was also stores here.
Threshing Barn:
This barn contained a threshing machine, which separated the grain from the straw and chaff.
Range Barn:
Cattle were kept in this barn. The adjacent underground silo, built by Joseph Wharton, was for storing fodder.
Mule Barn:
Constructed in 1828 of Jersey ironstone, this building served as a team stable, hay storeroom, and mule barn. It contains eight stalls with storage above.