Batsto Gets New Website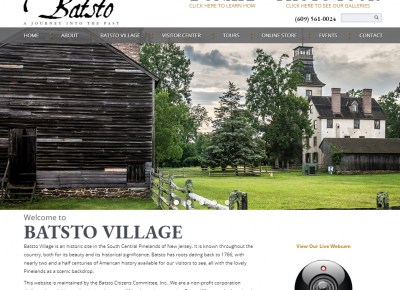 In a continuing effort to improve the visitor experience at Batsto Village, Atsion Mansion and Wharton State Forest, the Batsto Citizens Committee Inc. (BCCI) is proud to announce the launch an exciting new website that will replace one that has served the public for nearly two decades. The new site is expected to go live on September 23, 2019. Wes Hughes, chairman of BCCI's marketing and public relations sub- committee, and three other BCCI sub-committee members worked with Vision Line Media, to design and implement the new, interactive site.
"Our previous website served us well for many years, but it was time to update and upgrade the site to enhance the experience of our visitors, potential visitors and donors," said Hughes. "The new website makes it easier for people to plan their visit to Batsto and understand all that the park has to offer."
The updated website features photographs and videos from a variety photographers who have captured stunning views of both historic sites and the ecologically significant Pinelands of Wharton State Forest. A live webcam on the new site even allows visitors a birds-eye-view from the iconic tower atop the Batsto Mansion.
Besides the visuals afforded on the new site, the historical significance of Batsto and its environs has also been fully developed on the website, as well as information about upcoming events, and opportunities for donors to get involved in a number of annual fundraising efforts. The easy to navigate site also features a shopping cart where visitors may pay for advance tickets to events and purchase Batsto merchandise and books online. Donors may also make secure donations to Batsto, via credit card. Those interested, can also learn about becoming a "Friend of Batsto" and volunteer opportunities on the new site.
The new website is fully responsive for mobile devices and secured behind 256 Bit SSL encryption. It is being maintained by the Batsto Citizens Committee Inc., which is a non-profit corporation dedicated to advising and assisting the state of New Jersey in preserving Batsto Village and educating the public about its significance in interpreting the unique history of southern New Jersey.
" We are very excited to be able to work with the Batsto Citizens Committee to give the historical treasure that Batsto is the professional Web presence it deserves," commented Vision Line Media Senior Partner Bryan Klugh.
In addition to managing projects like the new website, BCCI also sponsors several major on-site events annually, including the Country Living Fair, on the third Sunday of October. The committee also contributes funds it has raised through its "Friends of Batsto" mission to assist in the preservation of the historic site.
Batsto is a nationally recognized historic village which dates back to 1766 and provides through guided tours a glimpse of what life was like in the region during the American Revolution in the 18th century through the Industrial Revolution in the 19th century via a Visitor's Center Museum, and more than a dozen original historic structures, including the venerable Batsto Mansion. Further information may be obtained by calling the Batsto Visitor Center at (609) 561-0024.
About Historic Batsto Village
Located eight miles east of Hammonton on New Jersey Route 542, Batsto Village is a New Jersey historic site located in the south-central Pinelands. Administered by the New Jersey Department of Environmental Protection's Division of Parks & Forestry, this site is nationally recognized for its historical significance and beauty. The roots of Batsto Village can be traced back to 1766. Two centuries of American history are available to visitors, with the Pinelands environment as a scenic backdrop.
About Batsto Citizens Committee, Inc.
The Batsto Citizens Committee was founded in 1956 to aid the State of New Jersey in the development of Batsto Village as an historic site. Its purpose was to advise, assist and promote the restoration and interpretation of the historic and natural aspects of Batsto Village. In 1997, the committee reorganized and became incorporated as the Batsto Citizens Committee, Inc. (BCCI), and continues to follow the above objectives. For more information about BCCI visit www.batstovillage.org
About VisionLine Media
VisionLine Media is a South Jersey web design company based in Haddon Heights, New Jersey. The company has been a regional industry leader for over 18 years. VisionLine services clients ranging from sole-proprietors to Fortune 500 Companies and has an extensive portfolio of work that extends to many different industries. From its Haddon Heights, NJ location, VisionLine services Web Design clients in South Jersey, Philadelphia, Northern New Jersey and New York. For more information about VisionLine Media, visit them at www.visionlinemedia.com