Free Virtual Tour of Mount Vernon
On February 10th, the Batsto Citizens Committee,Inc. and the Friends of Indian King Tavern were sponsors of a virtual tour of Mount Vernon, home of George Washington.
If you were unable to sign up for the February 10th presentation, the link below in the message from the host will let you enjoy this great tour at your leisure.
The Batsto Citizens Committee ( BCCI ) is one of the sponsors of the
February 10, 2021 virtual tour of Mount Vernon.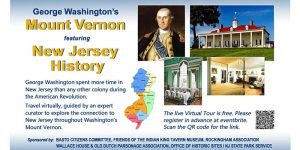 BCCI is proud to help bring this free presentation to the public.
The home of George Washington contains two articles
produced at Batsto!
You must register on – line through Eventbright to view the presentation.
The registration link is below:
https://www.eventbrite.com/e/virtual-vip-tour-of-george-washingtons-mount-vernon-featuring-new-jersey-h-tickets-135998121041