History at Sunset – Batsto in the Revolution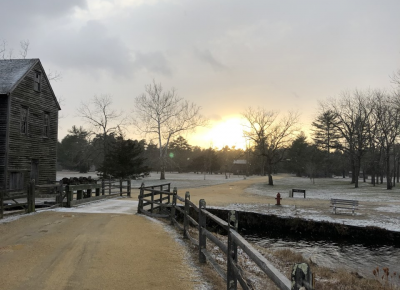 A hearty group of people braved a snow squall, temperatures in the 20's and howling winds to learn of the American Revolution connection to Batsto Village in a "History at Sunset" walking tour present by Wharton State Forest seasonal historian Jeff Martin.  The intriguing story of Batsto supplying war ammunition, a British spy, and privateers at Chestnut Neck held the attention of the group, who were treated to a beautiful sunset over the Village as the clouds broke at the conclusion of the tour.
The program will be repeated on Saturday,  March 26th at 5:30pm. Meet at the ore boat (register at event link on the Wharton State Forest Facebook page).
https://www.facebook.com/events/1003033250561750/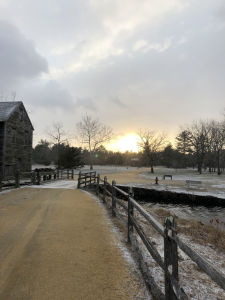 A new topic will be upcoming for "History at Sunset" in April at Batsto Village.