Mansion Tour On Facebook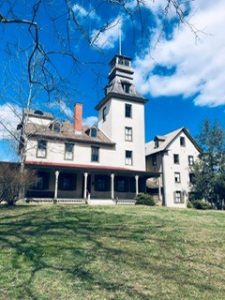 Since the Batsto Mansion has been closed for several months due to the pandemic, we thought we would give you a chance to see it in a different way.
This Sunday December 6th, long time Batsto Citizens Committee, Inc. (BCCI) member and docent Janice Dispoto will host a tour of the first floor of the mansion beginning at 11:30AM.
You can view this tour live on our ( Batsto Citizens Committee / Historic Batsto Village ) Facebook page and the tour will last about 45 minutes. It is best if you are already "following" us or "like" us.
This is the first time we have ever attempted a tour of the mansion in this manner. We are working through some technical obstacles but should be set for Sunday morning.
The mansion will not be decorated for the holiday as it has been in the past, but if you have not been in the mansion before here is your chance to see a big piece of it.
When the pandemic has passed, you'll want to come visit in person!
Come join us.