The Batsto Stagecoach
Travel by horse drawn "coach" has been around since the 17th Century. More a form of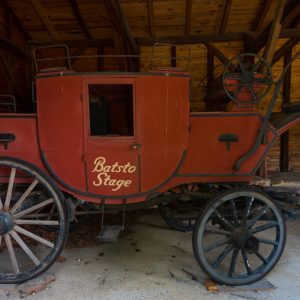 entertainment for the wealthy, it wasn't until the later part of the 1600's that travel by horse drawn coach became an affordable, convenient …and dry… form of getting to where you were going.
Although travel by coach was a step up from traveling totally exposed to the elements on horse back, it could still be very slow.
Long distance travel by coach in "stages" was necessary to allow for changing the horses and providing passengers an opportunity to refresh themselves. Stages were typically not more than ten miles as roads weren't much more than rutted, muddied paths in the beginning.
The Batsto stagecoach began operating in the summer 1962 and is believed to have been built around 1850. It was "discovered" by two members of the Batsto Citizens Committee in Atlantic City ( NJ ).
Where and when it was built is unknown.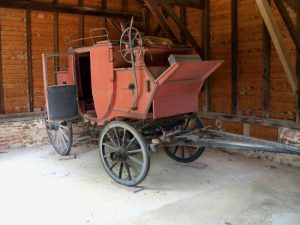 It is believed the Batsto Stagecoach operated on a run between Camden (Cooper's Folly) and Leed's Point near Smithville.
John Lapp of Intercourse, Pennsylvania; a specialist in the restoration of ancient vehicles, did extensive work on the Batsto Stage Coach in the spring of 1966. In that same year the State of New Jersey secured a new team of horses that were housed at Batsto.  Horses were shod at the Blacksmith Shop… still used today.
The State's Maintenance shop at Green Bank  also did extensive work on the coach in early 1967 before it was transported to New York City. The coach  was displayed in the International Philatelic Exposition at the Hotel Americana.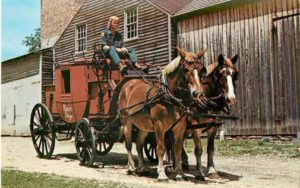 Speaking of Green Bank, Morris Mick Green Bank was one of the early drivers of the Batsto Coach in the sixties. Back then the ride was thirty five cents for the thirty minute ride through the lower village.
About penny a minute. A good deal indeed!